Domestic Bliss Meets Leisure:
A Serene Architectural Marvel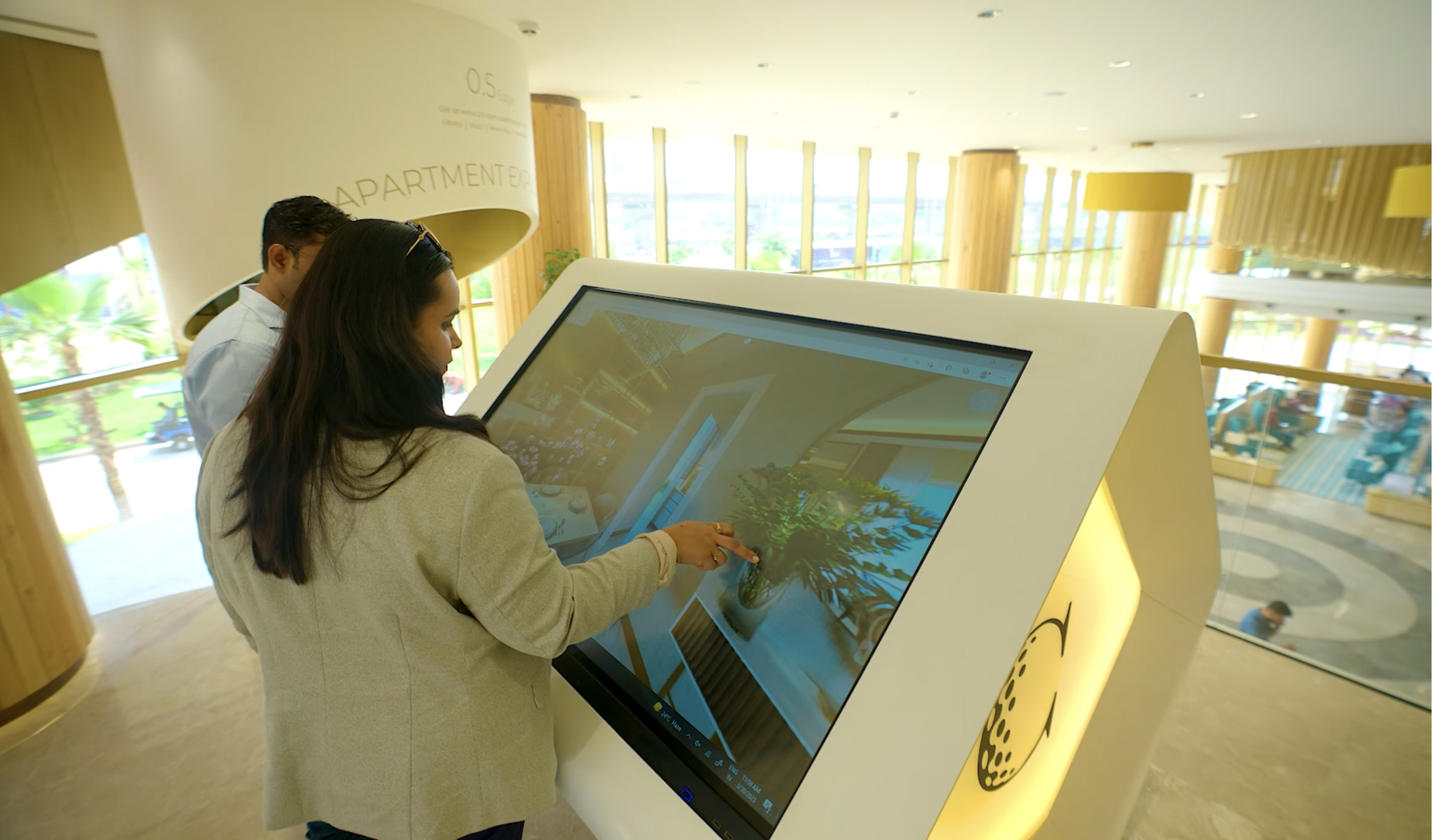 One of the largest real estate developers in the country, M3M is an instantly recognisable brand, known for its diverse portfolio of projects.
The group approached us with the task of creating an experience centre for a housing development that promised Golf Style Living. Fourteen gorgeous high-rise towers offering 3.5 and 4 BHKS, coupled with a stunning retail arcade, it sounded like an irresistible proposition. The task at hand was to narrativise it.
Execution
The M3M Capital Experience Centre was created in an already built environment, with regular to high footfall through the week. Sticking to our core philosophy of Brand Centric Journeys, we put the brand centre-stage, to the way we approached both our design and flow. The stream of information was designed, and packaged in a way that led the customer on a journey, by the end of which he or she could make an educated decision.
Our narrative began in the Immersive Projection room, where M3M's 'Master Vision' for the location was laid out. To double down on our narrative we used two styles of projection, one on a curved 23 feet wide screen, while another on an actual scale model approximately 9 feet in width. In perfect sync, the enthralling show lasted ran for 4 minutes.
Once acquainted with the future vision, the audiences were led to the Model Display area. Unlike typical models, this was a more wholesome experience where every element served a purpose. Callout instalments supported the model by summarising features, while USPs were printed and hung from the ceilings while a running landscape covered the rim of the entire display area. Mini screens complemented the model by displaying features while reflective glass fixed around the model made the space feel larger. There was also the highlight, an 'amenity wall', a multi-layered façade created from laser cut light boxes that served as a quirky little way for visiting customers to learn about key offerings.
Upon exiting the model display room, customers could then interact with the project's many features and information through touch-enabled giant screens. To aid the customer's sense of space, we also offered VR pods for a 360-degree apartment view of their future home. The interactive nature of this EC, its technological bent and finesse helped many customers make the wise decision of investing in the property.
Read More
To aid the customer's sense of space, we also offered VR pods for a 360-degree apartment view of their future home.